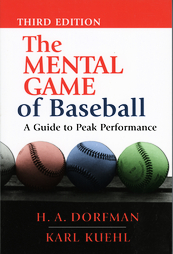 "THAT is powerful and did I need to hear it. Thank you."
-Wanda, in receipt of the story below via Coach Traub's Mental Skills Tips e-newsletter
Harvey Dorfman's Dad said, "Sufferin makes you stronger, kid, as long as you survive." He may have borrowed that from Friedrich Nietzsche who said, "That which does not kill us makes us stronger."

Harvey was the best mental skills coach I've known and I was lucky to have him as a mentor. In addition to World Series Rings as a coach, he won a national championship as a goalie in college and survived serious asthma as a child.

Those who have survived significant adversity often gain a perspective on the game that helps them to perform up to their potential more consistently then others. Others can learn from their stories. Here's a true one I wrote up for you:
Inspirational True Story

Deborah was a professional teacher for 22 years, and is now a middle school principal. She sounds like a hero already, but let's learn more… She's also a mother who got divorced a long time ago and raised three kids as a single parent. Clearly, she's a good Mom. How did this Mom help create a healthy perspective in her athletic son's mind?
She was asked her secrets. "Give them lots of love. Celebrate their successes. And if something doesn't go too well, still give them that extra hug and tell them there's going to be another day. Never [fail to] provide support and guidance. Always lend an ear. And don't criticize. Let them analyze. They have a coach to do all that. Just be a parent." "I was always stern as a parent," she said, "but from day one, I included my children as part of the decision process."

Back up a bit. This Mom listened and took it to heart when teachers told her that her only son was having problems in school. Starting with preschool, teachers complained: he can't stay quiet, he won't sit still, he doesn't keep his hands to himself, he is giggling and laughing and nudging kids for attention. She was directly told that, "your son will never be able to focus on anything." She heard the critique, but she didn't accept it. She found ways to play to his strengths. For example, when he had trouble reading, she gave him the sports pages to read.

From adversity, strength. In grade school he was often teased by classmates. He was unusually tall and long, and he had big ears. His size would benefit him in his sport, and his Mom said the teasing did, too, by helping him stay grounded even after extraordinary achievements.

Once, the boy was arrested for driving under the influence of alcohol. A reporter asked him what the worst part of that was. He said, "Having to look at my mother's face knowing I had let her down." Mom: "I've been there not to dictate or guide. I'm there to listen to what he wants to do and try to help him solve problems and make wise decisions." Despite being close during all the hubbub in Beijing, Deborah Phelps stayed away from any speculation about whether her son would break Mark Spitz's gold medal record. "I don't get caught up in the four, six, eight," she said. "Whatever the number might be, I just know I'm here to support Michael in every swim he takes."