CoachTraub.com History
by Aaron Weintraub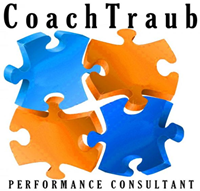 This company grew out of a belief that by providing value to help people get what they want in sports, I would be able to enjoy my job and support my family. In 2006, my college baseball coaching career showed quite a bit of evidence of very fine coaching, and even more evidence that my career path was not on a meteoric rise. Did this qualify me to become a consultant? Not entirely, but there were those who seemed interested in the mental skills training that I was already starting to provide. Baylor Baseball hired me and the Colorado Rockies' Mental Skills Coach found me through Harvey Dorfman and got his applicant pool for an assistant down from 100 to 2. I was one of those. They ended up not hiring anyone, but it was a good sign. A few other success stories led to the belief that if I can do this well so quickly, the business will grow and become huge, easily.
Wrong.
Dr. M. Scott Peck (in The Road Less Travelled) said that once you have discipline, life no longer is difficult, but I am not sure that I agree. His definitely-worth-reading reasoning was that with discipline, success is inevitable and discipline can become a habit. I am trying to establish that sort of momentum and feel I am doing well, but the world is a tough place. It says things like, "why would we hire you when we already hire a coaching staff?" Or, "That was fantastic. Really powerful stuff. Great delivery. We'll call you."
I knew that I didn't know business and would have to learn on the fly, but I did have some advantages. One is my supportive family. Another was having Harvey as a resource. Sadly, he passed away in 2011. Another advantage is Teri Pratt. Teri is my website designer; she has a wonderful son who I was able to help a bit when he was a high school athlete. She does know about business and a lot about website design! If you need a website, you should try hard to get her to work for you. She's the best.
I also have always had a persistent personality and a conviction that I needed to practice what I teach. And guess what... this stuff works. By staying positive through adversity, constantly pursuing awareness of self and the world, getting a little bit better every day, having the courage to try new ideas, being blessed with health and love, and always trying to over-deliver value by starting with a serving heart, CoachTraub.com has grown and continues to grow into a mental skills training resource for athletes, parents, and coaches in all sports.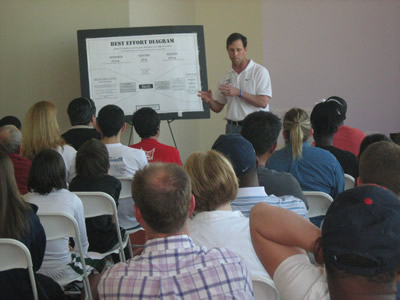 If you'd like to join our pursuit of excellence, please "like" Coach Traub's Mental Skills Training on Facebook, attend an event, give me a call, inquire about an internship, send me advice, or connect in whatever manner works for you.
Best wishes for making TODAY your masterpiece.
This workshop was with the great sprinter Michael Johnson at his Performance Center in McKinney, TX. If you'd like a copy of the Best Effort Diagram in the photo, click it!