PEAK PERFORMANCE CAMP
You don't have to be sick to get better...faster!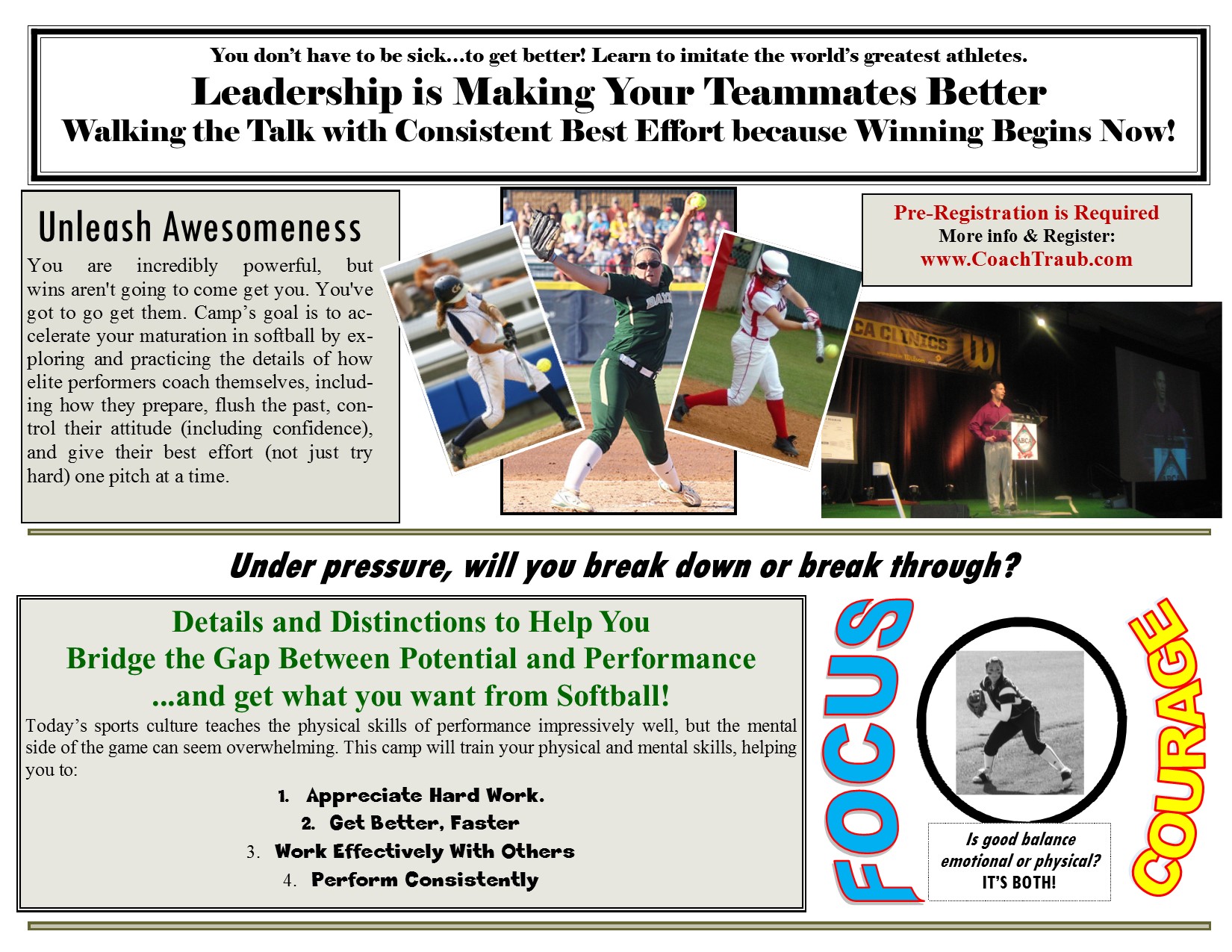 IF YOU WOULD LIKE TO HOST A COACH TRAUB PEAK PERFORMANCE CAMP IN BASEBALL OR SOFTBALL (probably for free),
CONTACT COACH TRAUB: This email address is being protected from spambots. You need JavaScript enabled to view it.
OTHER SPORT COACHES: Peak Performance Camps are available if you want to team with Coach Traub. He will coordinate the mental training part of camp while you direct the physical training.
Coach Traub's Mental Toughness Training Products are sometimes included with the camp fee and are otherwise available for sale or given for prizes. View the softball products here and the baseball products here.
Under pressure, will you break down or break through?
Today's youth can do anything—but it's not going to happen by itself. This camp will clarify distinctions about how the greatest athletes in the world trained to get where they are. Today's softball world teaches the physical skills of performance impressively well, but it's a sink-or-swim world when it comes to mental skills. If you have investedsignificant time or money into your performance, but have not maxed out your potential, then you cannot afford to skip out on training your brain!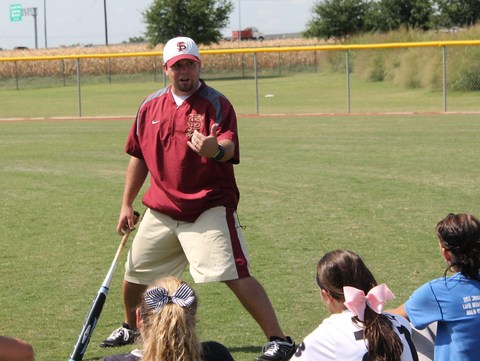 Craig Snider, FSU Assistant Coach
Get Better, Faster
The goal of this camp is for athletes to leave with clear distinctions about how to train smart, working on both their physical skills and mental skills at the same time.
CHAMPIONS ARE MADE AT PRACTICE!
A typical camp might have a schedule that looks like this:
Introductions—Mental Skills Training
Dynamic Stretching and Awareness
Focused Throw and Catch
Throwing Contest
Dealing with Adversity and Pressure
Imagery Experience
Hitting Drills: Practice Hard and Smart
MST's 3 C's - Control, Confidence, and Courage
Building Routines to Guarantee Your Best Effort
Infield, Outfield, Catching or Pitching Instruction
Did we make learning most important today?
Games / Parent Clinic
Wrap up / Awards
The Peak Performance Camp has a flexible schedule, but it is often a half-day event (4 hours long).
Coach Traub's public camps have a per camper fee.
Any organization can host this event for a flat fee or by having enough interested student-athletes.
If your organization hosts this event and registrations exceed Coach Traub's fee, this camp becomes a training event AND a fundraiser for you!
Do you know exactly how to practice to get the most out of your ability and be a clutch performer? The answer exists first in your set of mental skills and second in the way you practice your physical skills. To succeed, you need a plan that is guaranteed to work if you execute it precisely. This camp will give you that plan! Coach Traub's guarantee to you is that if this is not the best single-day of camp you have ever experienced, simply tell him so after the camp. Your suggestion about how to make it better will be worth the money he will pay you: a 100% refund.
Sample end-of-camp award: