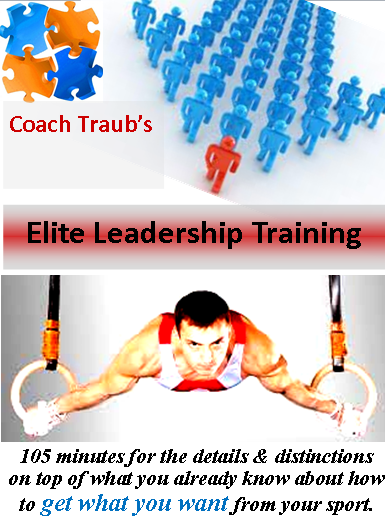 Occassionally, Coach Traub offers small group training at his home/office in The Colony, TX. This "Elite Leadership and Mental Toughness Training" is limited to 6 student-athletes and their parents. It is 105 minutes for $40 and is typically on a Sunday evening from 6:30-8:15.
Leadership: Making teammates better. It's "the art of getting someone else to do what you want them to do because they want to do it." -Dwight D. Eisenhower
4 Components of Leadership
1) Vision: where are we headed and what specifics of team culture will get us there.
2) Lead by Example: Walk the talk by being mentally tough. Best effort now.
3) Connect with Empathy. Don't get mad, get curious.
4) Take action! Have the resources (time, energy, confidence, etc.) left in the tank needed to do what it takes to make your teammates better.
Next Workshop: Sunday, February 15, 2015 @ 6:30 p.m. in The Colony, TX
Email: This email address is being protected from spambots. You need JavaScript enabled to view it. with questions or to reserve your spot.
Attendees complete a short homework assignment before this 'class,' then get personal attention as Coach Traub covers the fundamentals of mental toughness and leadership.
"Thanks Coach Traub, for the Elite Mental Training Class. Tiger and I really enjoyed meeting you and your training class. Tiger was very skeptical before the class. He walked out with a positive attitude about the class and with ideas he plans on using to get ready to get back on the mound."
Coaches and Administrators: You can bring Coach Traub's Leadership Training Class to your campus.
Travel Fees
Within DFW $0-50
Travel to Austin, TX $150 *
Travel to Houston, TX $175 *
Travel to San Antonio, TX $175 *
Travel to other cities varies
* includes one night